Juzzo
JZS147 Junior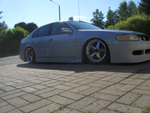 Joined: 17 Sep 2008
Posts: 143
Location: Finland
Posted: Fri Dec 21, 2012 9:09 pm

Post subject: Re: Fender flares...

---

OGAristo wrote:

drdoom wrote:
I've ordered some pretty aggressive wheels, and as I've had a look at the rear guards - because of the location of the door, I think i'll struggle to roll/pull the guards out far enough. Has anyone here got bolt on fender flares or anything of the sort? What would you reccomend?

Cheers



google search radius fenders

btw what are the specs of your new wheels btw you can always cmaber it in too


OG where did you get the idea that radiusing helps with wider wheels... Actually it makes it even worse as you cut out the part of the fender that is widest. But at the same times most cats also pull their panels to the max or cut the whole side off to start making a whole new bulkier fender from scratch.

Radiusing is only used inconjuntion with a tub job i.e. moving the wheel well higher. And so it's only used when cats wanna ride extremely low, i.e. frame rails only mm's off the ground and wheels fitting just barely ( mild tuck or "hellaflush" ). Like with mine cuz I'm running 21" at the back it wouldn't have been possible for me to slam my risto if I didn't do that.